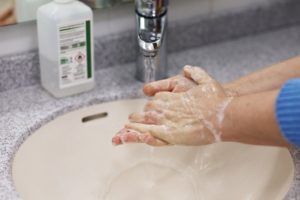 Vermonters and Upstate New Yorkers are turning to their local FPF to share information and mobilize efforts to help their neighbors prepare for COVID-19. Keep an eye out for new information from your local public officials, updates on area events and business practices, and keep in touch with your neighbors to see how you can help each other to be resilient during this time.
Here are how some neighbors are reaching out in light of COVID-19:
"Hi Neighbors,
We don't know how much coronavirus is already in our community, but its time to be prepared.
Two of the most important things you can do are:
-WASH YOUR HANDS frequently and well

-If you feel at all unwell- STAY HOME.
The 2nd point, self-isolation, can be a really big sacrifice.
I think I speak for our community when I say "thank you" in advance for doing this, and that we want to support you in doing the right thing.
So please, if you need to self-isolate, reach out to your neighbors, through tools like FPF. Some things we might be able to provide for each other might include:
-Grocery Delivery

-Netflix Passwords

-FaceTime Check-ins / playing online games.
If you need to stay isolated @ home and there's anything at all that might make it easier for you to do that, please don't hesitate to ask your neighbors." • Ben in Burlington, Vt.
"Hi, Richmond! Still very much hoping that this does not affect our town. However, if you or someone you know is self-quarantining due to concerns about coronavirus, your community is available to help—several people have expressed interest in assisting with deliveries of groceries and other essentials.
In that case, please feel free to get in touch. If you know someone who needs assistance and doesn't use email, they can reach me by phone." • Jen in Richmond, Vt.
"Hey neighbors, let's start using this group as a way to support each other during the coronavirus pandemic. Those of us who are able to provide assistance can let that be known (I can!). And, as voluntary and mandatory social distancing increases, folks who should stay home (anyone over 65, anyone with a compromised immune system, anyone showing signs of illness) can post here with questions or requests for assistance. Why not run a few errands for our neighbors, right? Let's all take good care of each other." • Kristen in Burlington, Vt.
Looking for information and resources to help prepare for COVID-19? See this informational video approved by the Vermont Department of Health:
Coronavirus PSA – open captions
Other resources on COVID-19:
Front Porch Forum is a free, local resource that can help neighbors to stay informed and band together. Don't forget to check in to see how your community is working together to get ahead of COVID-19.