Posted on Wednesday, January 6, 2021 by
Renee Bean
•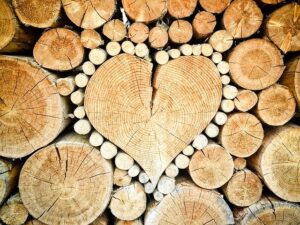 Front Porch Forum gives members across Vermont and parts of upstate New York and Massachusetts, a space to connect with their neighbors and communities. We see all kinds of postings, but some of our favorites are postings were people come together to help meet a need in the community.
Eric Axlerod, and FPF member from Jericho, uses his neighborhood forum to help provide firewood to neighbors in need. It started with a simple surplus of wood and has evolved into an effort to source, cut, stack, and donate cords of firewood.
Check out this excerpt from Seven Days:
"Thus far, they've given away 12 cords of wood. The crew is hoping to collect 20 cords to have on hand ahead of this fall. While they started collecting at their own house, they've also cut wood on neighbors' properties.
The trio has dubbed the undertaking "Wood for Good," and its mission is similar to that of organizations such as the Monkton Wood Bank in Addison County. Axelrod said he eventually wants to form a nonprofit and hopes to sign up more volunteers to help the cause. He'd consider expanding beyond Chittenden County if it takes off."
Burlington Free Press also covered the story, sharing that many community business have pitched in to provide trees, wood-splitting and stacking equipment, and volunteers to help get firewood ready for this winter:
"Last month North Star Leasing Company in Burlington announced it was donating a portable wood conveyor to Wood for Good…
…Employees of North Star Leasing are arriving earlier to help split wood. People from the Rotary Club of Burlington and Axelrod's men's group have also come to help. Barrett's Tree Services in South Burlington dropped off seven loads of trees that gave Axelrod a huge boost for 2021. Teachers Tree Service in Shelburne also donated trees."
When people come together and give back to their community, amazing things can happen. This is a wonderful testament to how challenging times have inspired many amazing neighbors and small businesses to help support those in need of food, warmth, and support.
Read and post on FPF to brainstorm ideas for community outreach, connect with resources that may help you and your family, or organize an effort in your town!