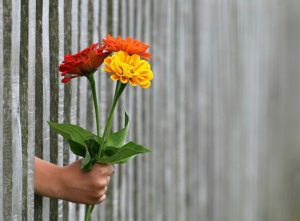 Supply shortages and photos of bare shelves have been all over the news and social media platforms over the last couple of weeks. Many Front Porch Forum members have taken to their neighborhood forums to share what they can with neighbors in need of this and that. See some inspiring and generous posts below!
"I appreciate so much all the offers to help in our community. Please try to use the Waterbury Good Neighbor Fund and our Food Shelf as central well-connected mechanisms to help the most people. Another way to help is by buying gift certificates for businesses that are likely to have to close or slow down (though recognize that just spreads out the loss of business). I'd suggest if you are in a position to tip heavily to your local and beloved businesses as appropriate, please do. They have been there for our community, and they are entering a time of massive uncertainty. Another way to help is to donate blood. Most organized blood drives will be closed for concerns of congregating too many folks. If you are healthy (and bored), and can make your way to a donation center, that will be super helpful to our medical system as this pandemic progresses. Covid patients don't usually need blood products but we will still see the baseline cases of trauma, etc that will need blood and with drives closed we will run out quickly. Science/math-based models suggest this virus will be hitting peak numbers in VT during May/June. We have a little time to get ready. Please settle in for the marathon ahead. I'd welcome any 1000 piece plus puzzles folks have to share! :)" • Amy O. in Waterbury, Vt.
"Been having fun making tiny bottles of hand sanitizer. For those days when you're out and about and can't get easily to a sink and soap. Have placed some in a basket on my front stoop. When the weather is fair-ish. Please feel free to take one.
I'm using 90% alcohol that dilutes down a bit when mixed with aloe vera gel, but still should be super strong. Hand sanitizer kills the virus but doesn't wash it away. Soap and water are still best for that.
If you have any small bottles, ie the travel sizes, that's the choke point in the Sue's Sanitizer pipeline, so it would be most kindly appreciated if you drop them into the same basket." • Sue S. in Burlington, Vt.
"I too would love to offer support as its needed….I am a naturopathic physician, and one thing i can offer is herbal medicine, specifically antiviral tincture which is a boost to the immune system and proactive and protective against viral infection in these trying times. Please get in touch if you would like some to be dropped to your home, if you are in need…(Until it runs out;) Also if you are elderly or at risk and you need extra support in the form of grocery runs or anything like that i can be of service.
Much love in this time of physical distancing! I too cannot wait until the time i can hug my loved ones;)" Casey E. in Middlesex, Vt.
Do you have items, talents, or ideas you are able to share? Or are you in need of something specific? Reach out to your neighbors on FPF today! We're all in this together.