Today we are launching Front Porch Forum's annual fall Supporting Member Campaign. If you are able, please support FPF by donating now by credit card, PayPal or check: https://frontporchforum.com/supporting-members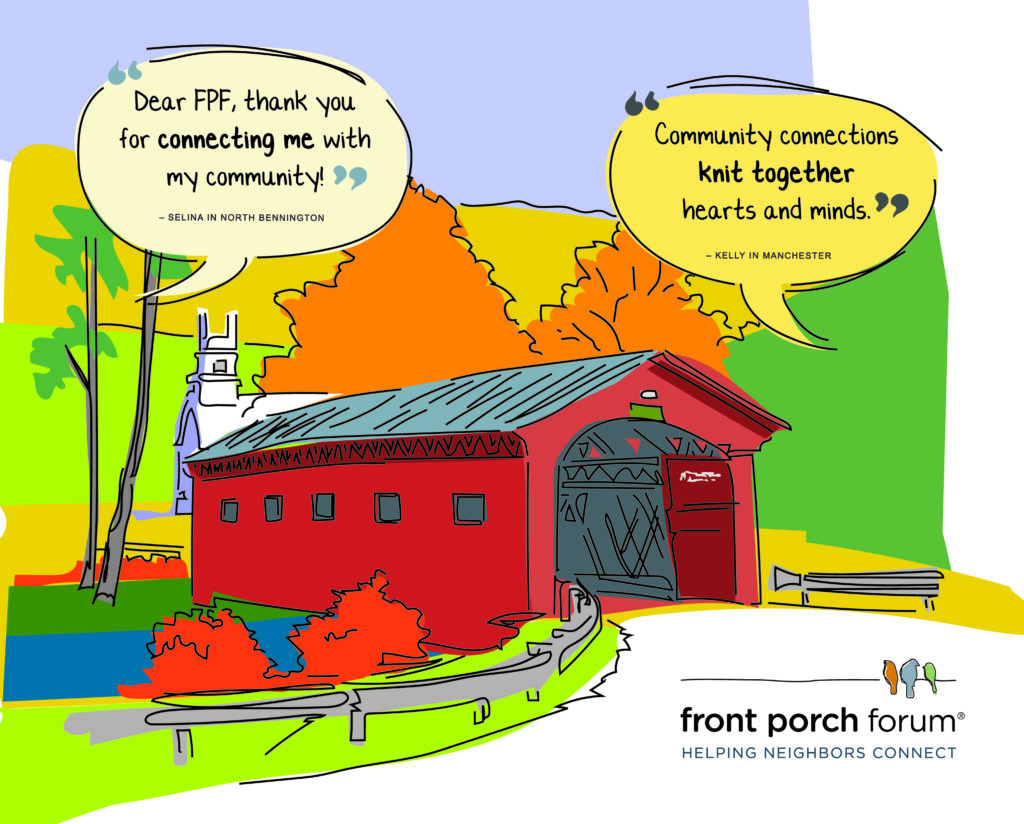 With the pandemic and other challenges, more people are using FPF than ever before to stay informed and to reach out to neighbors. Our workload continues to increase, and our costs and staff have grown accordingly.
We know that many of our members are not in a position financially to make a contribution this year. Regardless, please DO keep using your local FPF. Your engagement makes a big difference — it's more important than ever to build community among neighbors.
If you value FPF, please support our work by participating and by donating today.
Thank you.
FPF is a Vermont Public Benefit Corporation and not a charity. Contributions are not tax deductible. Ad sales to local businesses cover most of our expenses, and your Supporting Member contribution helps close the gap.
Step up onto our Front Porch and have a seat. This blog is created today to explore building healthy, vital community within neighborhoods. I've always been an organizer at heart, whether it was rounding up buddies for a game of kickball as a kid or running a campaign to convince my university to start buying recycled-content paper.
Earlier this year, my wife, Valerie, and I launched Front Porch Forum. This Burlington, Vermont-based service provides email forums for neighborhoods. We aim to help neighbors connect with each other in a way that fosters community.
If you live in Chittenden County, Vermont, please check out our site and sign up for your neighborhood's forum… it's already set up and underway. More than 2,000 households joined in the first two months of our beta period… a surprisingly fast start for a small metro-area. Word has spread mostly person to person, as one neighbor tells another. Those outside of Chittenden County can go to the site and join our wait list. We anticipate spreading beyond our intial area in 2007.
In this blog, I hope to explore some of the societal trends that pushed us to start Front Porch Forum. Reports of increasing isolation for individual Americans, lessening civic involvement, and decaying social capital in many places add up to a compelling case for fostering community within neighborhoods.
I anticipate looking at various attempts to improve the community feel of neighborhoods, including results from Front Porch Forum.
Comments are encouraged!