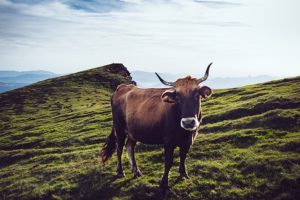 Spring is in the air and folks are sharing their seasonal observations on Front Porch Forum. Among the leafy trees, fragrant lilacs and colorful, rolling hills, one Vermont neighbor spotted another, more humorous note of spring sweetness.
"I thought this might be enjoyed by more than me… ( I laughed all the way home about this…)… as I was driving to the Richmond Park, from the back way in Williston, through Fays Corners, you travel by a farm just as the road swerves left. There was a cow or a bull, large dark brown, standing in full view,… she/he had had her coat shaved with the words ………… "PROM?" : ) That made my day, and I wonder if the person for whom that was intended received the message……. Please share with your Richmond friends. : )" • Kathleen B., Hinesburg, Vt.
That's one creative prom-posal!