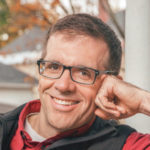 Front Porch Forum's co-founder, Michael Wood-Lewis, met with Patrick O'Keefe of Community Signal to discuss how Front Porch Forum empowers Vermont neighbors.
Michael shared, "a vibrant local community… part of it is a functional local government. You also need engaged citizens, and you need a vibrant local business sector if you want to have a healthy community.  It's hard to do that in the age of Amazon and Facebook."
Citizens of Vermont use FPF to get to know their neighbors, share, become informed about what's happening in their communities, and actively participate in community projects and local democracy. Listen to the full interview or read the highlights here.