A local police department warns neighbors and provides tips on Front Porch Forum.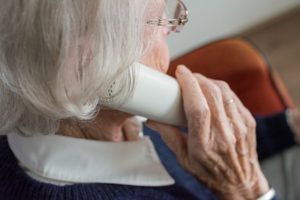 "We have received several calls from elderly citizens recently regarding fraudulent "robo calls" (recorded automated phone calls) from someone claiming the recipients of the calls have not paid their taxes. They threaten police action if a payment is not made immediately.
Neither the Internal Revenue Service nor the Vermont Department of Taxes will make contact by phone and demand immediate payment for unpaid taxes. Local police, sheriff's departments, and state police are not involved in enforcing payments of federal or state taxes.
Should you receive a call like this, do not confirm or give out personal information, simply hang up and make a report to the Vermont Attorney General's Office at the Consumer Assistance Program site below:
You can sign up for scam alerts from the Vermont Attorney General's Office at this site:
http://ago.vermont.gov/consumer-assistant-program-scam-alerts/
Information on this specific scam from the Internal Revenue Service:
https://www.irs.gov/newsroom/irs-urges-public-to-stay-alert-for-scam-phone-calls
Please contact your elderly friends and family members and inform them of this scam."
• Michael with the Montpelier Police Department
Share this info on your own FPF!