Front Porch Forum Members Trust Their Neighbors.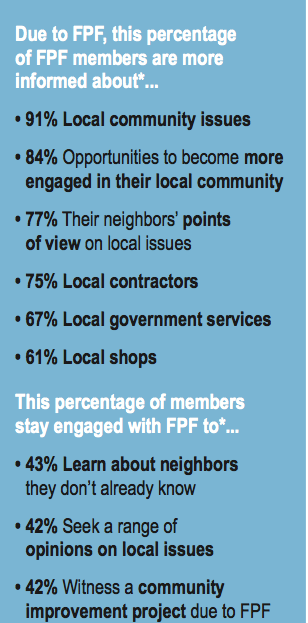 "When it comes to informing neighbors, was there really life before FPF?"  "Our community garden is thriving in its 4th season, largely because gardeners and supportive community members heard about it on Front Porch Forum. On FPF, we learn what our neighbors are thinking and doing. We participate in offerings we wouldn't otherwise have known about. We avoid hazards we might have stumbled into if uninformed. We sell, buy, and give all manner of goods and services. I look forward to reading every issue. My responses range among curious, amused, concerned, angry, delighted, relieved, gobsmacked, inspired, and more. It takes a lot of worthy content to stimulate so much response repeatedly over time."  • Sheryl in Montpelier
Connecting with neighbors and building local community begins with being better informed. FPF stimulates that in spades. Neighbors who use Front Porch Forum to communicate are more aware of who lives around them, stay better informed about what's happening in their communities, and are more prepared to face challenges and times of crisis.
"FPF exists to help communities become more resilient," says FPF co-founder, Michael Wood-Lewis. "Neighbors who know each other and communicate about what's happening locally are far more likely to be better prepared to face tough times."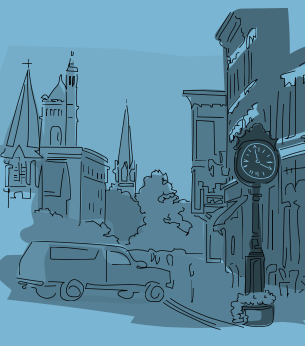 You've got to know that a local issue is bubbling up if you're going to be involved. For many Vermonters, that starts on their neighborhood or town FPF. Even knowing about the weekend's yard sales or school sporting events via FPF leads people to getting more face-to-face time with neighbors.This leads to more connection and more involvement. Get on the local grapevine. Sign up for your local FPF. Read, and then share your perspective in a posting to neighbors.
Bree, librarian at the Westford Public Library, uses Front Porch Forum regularly to reach their patrons. From updates, special event notices and library closings, she finds FPF "reliable and easy to use. FPF is the social media outlet that reaches different generations of patrons – appealing to the whole town rather than a certain demographic or "friend" group."
The Robert Wood Johnson Foundation funded an independent third-party, Network Impact, to design, implement and analyze an online survey of 132,188 Front Porch Forum members in March 2017. 13,086 Vermonters completed this 20-minute survey. With a 99% confidence level, the survey results represent the full FPF membership.