It's not uncommon to hear wild tales of animal chases and gracious shout outs on Front Porch Forum, but it never gets old!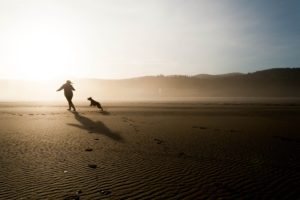 "Thank you to everyone who helped, offered to assist, pointed us in the right direction, or simply wished us luck as we chased the very fast and wily "Rolo the dog" all over our fair city after he escaped while we were dog-sitting. His jaunt included most of North Street (twice), Spring Street, all of Weaver Street, the Winooski Circle, the Casavant trail, and ended on Platt Street.
A special thanks to Ben for assisting with our pursuit on his moped; to all of the folks who donned headlamps and searched on foot; to the kind couple on Platt Street who found one very exhausted pup in their driveway and called the Winooski PD; and to the Winooski Police Department for their kindness and prompt attention. And lastly, our sincere apologies to anyone who was offended by a silver Subaru that was driving in a less-than-courteous manner as we tried to keep Rolo the Escapee in our sights.
Rolo is home safe and sound, and we are grateful for such a caring community! " – Charlotte A. & Chris in Winooski