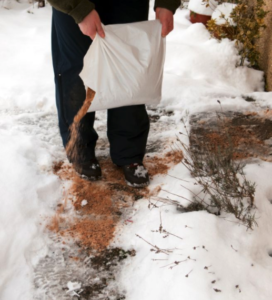 Changing weather can result in difficult walking and driving conditions. Witnessing Front Porch Forum members helping their neighbors is very gratifying.
"Thank you to the neighbors who brought my trash and recycling bins up from the road to my garage!! There has been so much ice at the end of the driveway for the past couple of days, that I was afraid of falling."  • Susan in Montpelier
"Thank you to the kind person who sanded our driveway. It was a sheet of ice and we came home that afternoon to a well sanded driveway. Whoever you are, we are so appreciative of your kindness." • Susan in Johnson
"Much gratitude to whoever laid sand down on my sheet of ice driveway the other morning!" • Lisa-Anne in Craftsbury
Have someone you wish to thank for their kindness? Let them know on FPF!