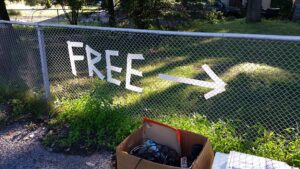 Are you looking for scrap wood for a backyard project, a treadmill, or a kitchen appliance? Posting in the "Seeking Items" category on Front Porch Forum can often have multiple positive outcomes, beyond just getting the item or information you need!
"Hello; Looking for 1/2″ or 3/8" red and/or blue PEX tubing lying around from a finished project? Fittings? If so, what style fittings? Will happily borrow the connector tool too. Thinking I need 70′ of each or so.
Yup, looking for bits and pieces for renovation to:
A) Save $$$
B) help people get stuff out of their garages and basements and put to good use
C) Make more community connections" • Wayne in Hinesburg, Vt.
If you're looking for an item, try asking your neighbors first on FPF! It may just turn out that everyone wins!