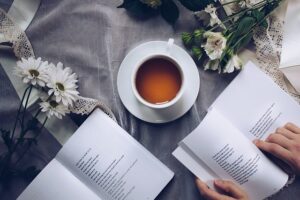 Front Porch Forum has been full of postings expressing creative ideas for projects and social connection that can be done from home. For example, VPR's virtual poetry reading in honor of Poetry Month! Register to participate in this fun community event, details below!
"How about a little joy? Hope you'll join us this Friday evening at 6 for a virtual poetry reading featuring Vermont poets. In honor of National Poetry Month, Morning Edition's Mitch Wertlieb will be joined by Didi Jackson, Major Jackson, Kerrin McCadden and Elizabeth Powell to read their work and discuss what inspires them. You can watch this event in an online stream wherever you're sheltering in. Learn more and RSVP here." • Vermont Public Radio 
Share your virtual events or learn about other events in the area on your neighborhood FPF.