There are countless examples of neighbors helping neighbors on Front Porch Forum! See some recent examples of FPF members in need of specific items, resulting in a huge helping response from their neighbors!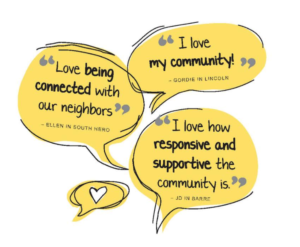 "July 11, 2019: Hey Forum Fam!!!! Need a twin size or full size matress please!!! Just found a room to move into but looking for a bed. Low on cash since most my money will be toward the room. Let me know if y'all have any leads. Thanks!!! 
July 13, 2019: The response to the mattress situation was astronomically great!!! I think the Forum is the best thing I've come across as far as people helping their community!!!" • David H., Montpelier, Vt.
"A few weeks ago, I posted an announcement about a baby boy who belongs to a young homeless couple that are "tenting" in Stowe. I asked for donations of baby items. The response was nothing short of amazing. This little boy who was born on May 3rd, he received so much love from members of our community. Diapers, formula, clothing, a stroller and so much more. Stowe Barber Shop is where he often hangs out. A rocking chair even made its way here and people waiting for haircuts will rock him and hold him. I just want everyone who contributed to know what a BLESSING you ARE!" • Regina C., Stowe, Vt.
Need some help finding an item or working on a project? In the spirit of sharing? Keep up with your local FPF!