Posted on Tuesday, July 9, 2019 by
Michael
•
From Anne Wallace Allen in VTDigger yesterday…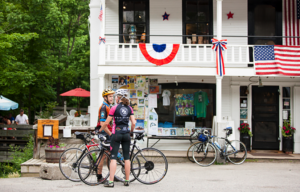 Jack Garvin, longtime manager of the Warren Store in the Mad River Valley, which sells gifts, housewares, craft beer and other items, said that like every store, his has a group of regulars who meet every morning for coffee. Apart from participating in a huge range of events, Garvin finds it helpful to advertise on Front Porch Forum (FPF), the online bulletin board.
"Regardless of how loyal your customers are and they love the idea of having a country store in their town when it comes to bottom line and looking at your wallet and looking at your disposable income, they'll by and large go to the better deals," Garvin said. But he added he can see through FPF analytics that his ads reach people outside the Mad River Valley.
"We don't know how that translates into people walking in the door, but people are paying attention," he said.