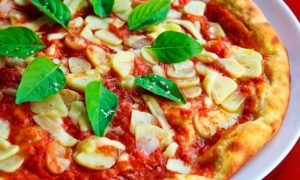 It's the time of year when we see more and more neighbors stepping out to lend a hand and making an extra effort to share goodwill. Enjoy a recent good tiding from Front Porch Forum…
"My daughter works as Zachary's and last night (12/23) she accidentally accepted a reservation for a family for the next night (12/24), not realizing the restaurant was going to be closed for xmas eve and xmas day. She didn't get a phone number, just a first name so there was no way to call them back. The manager opened the pizza place tonight (12/24) for the family and he, my girl, and a couple of other generous people chipped in to serve them up their dinner.
Now that is is above and beyond. Good job on all parts, especially the manager, for caring so much about his customers that he didn't want the family to show up to a "closed" sign AND for NOT getting mad at my sweet pea for her mistake. Nice all the way around! Happy Holidays everyone."  • Diane E., Waterbury, Vt.