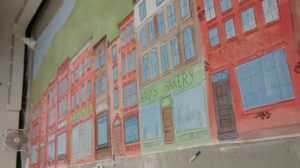 Positive outcomes abound on Front Porch Forum as neighbors share gratitude, thoughts, and even leftover paints.
"I wanted to pass on to you a win win story thanks to Front Porch Forum! I am the Director of Theatre Adventure of New England Youth Theatre in Brattleboro. I read in Front Porch Forum that Joanna R. was giving away interior latex paints. I was interested because I was in the beginning stages of working with two scenic artists to create a rolldrop for our next production.
I wrote to Joanna that I was interested in her free paints. She immediately wrote back and invited me to come look at them and take anything I was interested in. I did just that!  I left Joanna's with a full trunk of many cans of paint and a smile on my face. The artist who painted the Brattleboro street scene with these newly acquired paints was equally pleased!
See the photo for the finished scenery that we will use for our April production, "Raising Our Voices Together." • Laura in Guilford