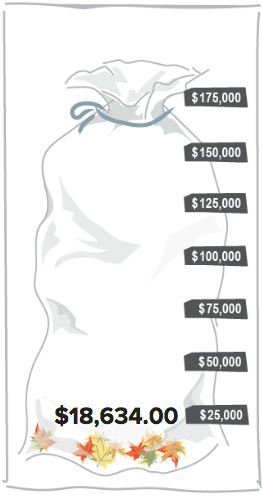 Need a recommendation? Having a yard sale? Looking for your lost pet?  Front Porch Forum is used by Vermonters for many different reasons. But one thing that's true for its members is that FPF connects us to one another.
If you appreciate the way Front Porch Forum helps us stay connected as a community, please consider donating to FPF's Supporting Member Campaign this month! Track our progress with this fun leaf bag help us fill it up by the end of the month!
"I am continually amazed by the kindness of strangers and the strength of our community.  Last winter, I wrote a posting on Front Porch Forum to request help digging out after a large snow storm. I'm disabled and can't do it.  Less than an hour after the FPF issue was sent out, I received TEN offers from folks wanting to help!  I am so grateful and happy to live in an amazing community like this.  Without FPF, I might still be snowed in. ;-)"
• Cara in Winooski
Your support allows FPF to reach even more people and continue to bring our free service to every town in Vermont. Together we're connecting neighbors and building community.