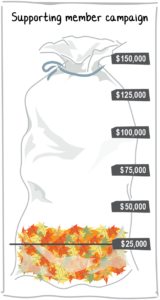 What makes Front Porch Forum special is neighbors like you!
"No better way to keep in the loop than to check in with FPF daily."
• Sharon in Morrisville
"This was the only place I advertised! Whew, that was easy. Thanks FPF."
• David in Fairfax
"To have this staggering amount of connectedness is invaluable… You are getting the bargain of your life." • Knox in Huntington
If you value Front Porch Forum, make a supporting member contribution today! Track our progress with this fun leaf bag… help us fill it up by the end of the month!  
Your support allows FPF to reach even more people and continue to bring our free service to every town in Vermont. Together we're connecting neighbors and building community.