Posted on Friday, September 8, 2017 by
Lynn
•
While national politics grow ever more divisive, Vermonters appreciate the largely civil debates about local issues that happen on their local Front Porch Forums.  For example, in a recent Middlebury FPF…
"I appreciate the civil discussion on FPF regarding the proposed Library expansion. Many interesting perspectives and information have been expressed. Thank you for that. It seems to me that all too often in our society differences of viewpoint cannot be explored respectfully. I appreciate this discussion."  • Christine in Middlebury
Posted on Tuesday, May 16, 2017 by
Lynn
•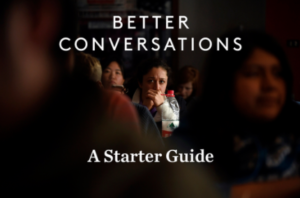 Front Porch Forum member, Courtney, shared this lovely piece on promoting and effectively participating in conversations that bring people in our communities together, an initiative created by On Being. There is even a PDF you can download to guide you!:
"The Civil Conversations Project seeks to renew common life in a fractured and tender world. We are a conversation-based, virtues-based resource towards hospitable, trustworthy relationship with and across difference. We honor the power of asking better questions, model reframed approaches to entrenched debates, and insist that the ruptures above the radar do not tell the whole story of our time. We aspire to amplify and cross-pollinate the generative new realities that are also being woven, one word and one life at a time."
Posted on Tuesday, March 14, 2017 by
Lynn
•
Across the state, members expressed their appreciation for FPF as a tool to engage and inform neighbors on important issues being voted on in their towns.
"I appreciate this forum and the way this passionate discussion is making it clear that all of us, regardless of our positions, should be sure to vote yay or nay"
•  Lydia from Charlotte
"Dear Neighbors, I want to propose a non-partisan FPF discussion thread. The subject is: "Why do so few people vote?" or maybe "Why don't more people vote?"  • Charles from Burlington
"I try to stay current on the goings-on in my community, largely by reading FPF posts, so I am aware that there were house parties, coffee meetings with candidates, and information available online."
•  Jacey from Burlington
"As usual – FPF shines as a great format to accomplish a public awareness / discussion."
•  John from Barre
Front Porch Forum encourages civil discussion about important topics. Be sure your voice is heard!