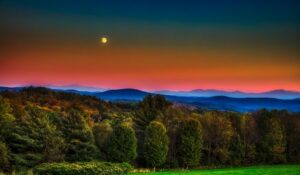 Vermont has the lowest number of cases of COVID-19 in the United States and it begs the question "why?" In Bill McKibben's July 28 article in The New Yorker, he explains the state of Vermont's unique history and social structures that likely pay a big part in preventing the virus's spread throughout the Green Mountains.
In addition to Phil Scott acting quickly when the first few cases appeared, McKibben credits much of the spread slow-down to neighborliness and social trust:
"Vermonters entered the pandemic with remarkably high levels of social trust. Only thirty-eight per cent of Americans say they mostly or completely trust their neighbors, but a 2018 Vermont survey found that seventy-eight per cent of residents think that "people in my neighborhood trust each other to be good neighbors"; sixty-nine per cent of Vermonters said that they knew most of their neighbors, compared with twenty-six per cent of Americans in general…
…All that is a reminder of how social trust has been squandered across so much of our nation as we've divided into red and blue teams, concentrated on individual advancement, and had our worst instincts yanked at by social media. In this case, Vermont is extremely lucky to be living a little in the past. The governor didn't immediately mandate mask-wearing because almost everyone mandated it for themselves…"
Read Bill McKibben's full article in the New Yorker here.