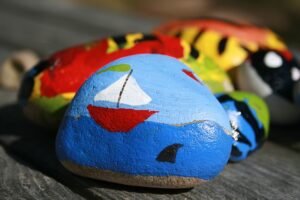 When in doubt, ask your neighbors on FPF! You can help strengthen your community by being there for your neighbors with ideas, creativity, and kindness, but also by asking for ideas and suggestions in return. Read below to see how one Jericho neighbor reached out to be a part of a community effort.
"At the beginning of this "stay at home" order, I was very creative, painting and crafting and baking all sorts of things. Since the days, weeks and months have passed, I've found it very difficult to maintain this.. I thought if I reached out to the community for ideas, maybe we could all collaborate on a community project to encourage each other and lift spirits. I've only gotten as far as "Painting rocks" to leave where they might be found, but if anyone has a more expansive idea, feel free to share. Perhaps we can pool our ideas and talents and create something inspiring and beautiful together." • Sarah in Jericho, Vt.
Looking for some input on your next project? Post your idea on Front Porch Forum!