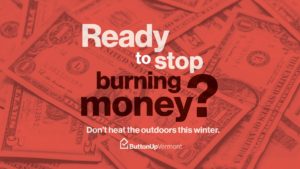 Temperatures are falling, snow is on the ground and the forecast calls for slick roads.  That means it's weatherization season, too. Button up your home this year and stop heating the outdoors.
Have you heard about the incentives? Vermonters can get 50% off weatherization projects (up to $4,000) and cover the rest with free 0% interest financing on a Home Energy Loan from Efficiency Vermont.
Attend a local Button Up VT workshop and learn how to lower your heating bill, save energy, and make your home more comfortable at ButtonUpVermont.org.
Front Porch Forum is proud to be Button Up Vermont's Community Partner, helping our neighbors be ready for winter.