A recent article in New York Times…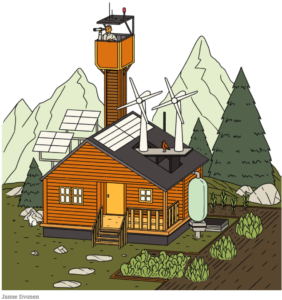 Climate Change Insurance: Buy Land Somewhere Else
In case global warming makes their homes uninhabitable, some millennials have a Plan B: investing in places like the Catskills, Oregon and Vermont.
Buried among several examples of people who think the answer to large-scale catastrophe is striking out on their own is the following gem…
Bruce Riordan, program director for the Climate Readiness Institute at the University of California Berkeley, cautioned that it isn't realistic to expect to live in a bubble. "Sure, you can grow your own vegetables, but what about wheat and grains?" he said. "And what happens when you need medical attention?"

Mastering surgery would certainly be a lot harder than learning to grow tomatoes.

A better strategy, Mr. Riordan suggested, would be to find a community that is intelligently preparing for whatever climate change may bring. He equated the situation to what California has done about earthquakes: They can't be avoided, but we can build safer buildings, get better at predicting them and establish systems to care for vulnerable populations when they occur.
This jibes with Front Porch Forum's experience.  When disaster strikes, the most resilient communities are those full of neighbors who know each other, know what's going on, and who have a record of helping each other and accomplishing things together.