With election day around the corner, we've been witness to many great examples of FPF members offering to help get their neighbors to vote.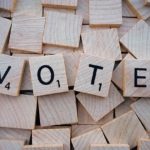 "I would love to help a couple of people who either don't have a car or cannot drive, get to and from the polling booth next Tuesday. This would include pick-up at the person's home, bringing them to the polling station, waiting for them to vote, and then driving them back home." • Sonia in Williston
"If you or someone you know needs a ride to the polls November 6th – or needs a ride to Town Hall to get a ballot for early voting – please let me know. I am arranging to assist folks getting a ride." • Jean in Reading
"When you read the postings in this forum about a hotly contested election for our local State Representative, all of them, no matter who the advocate is supporting, have been reasonable and respectful and I think it reflects well on the quality of the people who live here and the health of our community." • Howard in Wells
All of us at Front Porch Forum encourage you to vote this election!