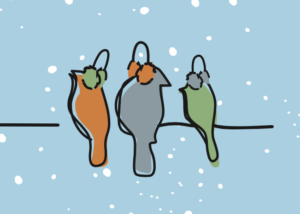 Brrrr It's been cold! And we're looking to heat things up a bit on Front Porch Forum. So, we're running a simple contest through 1 PM, Friday, Jan. 12, 2018. Submit a posting on a topic of your choosing ("desk for sale," "seeking plumber," "ode to the cold"… you choose) and include the contest word "earmuffs" anywhere in your posting and you will be automatically entered. We'll randomly draw a winner this Friday, Jan. 12. That's it!
So, if you've been meaning to post a question, concern, announcement, offer, observation, advice, etc… do it now and you might win a new iPad!
Details:
1. Any current FPF member may enter by submitting a posting to their local FPF before 1 PM on Jan. 12, 2018. The posting must include the word "earmuffs."
2. To be entered in the contest, postings should reflect a genuine effort to communicate, in the spirit of our mission "to help neighbors connect and build community." The idea of the contest is to encourage legitimate postings, so please curb the impulse to post nonsense messages.
3. Limit one entry per day per member account.
4. The winner of the random drawing will be presented with a gift certificate to Small Dog Electronics with sufficient funds to purchase a new iPad 9.7-inch 32GB Wi-Fi.
To submit your posting:
Go to https://frontporchforum.com and click "Login", then click "Compose Posting," enter your message, and click "Submit Posting."