We regularly receive appreciative notes at Front Porch Forum from our members. It's especially warming to know that we are having a positive impact on the towns throughout Vermont.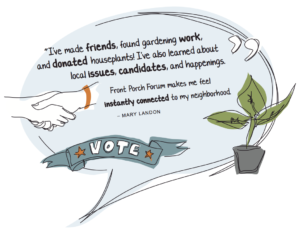 "There really is a sense of community commitment, responsibility, and self-reliance that we've never seen any place else when we read FPF. It's a wonderful on-line communication model for communities that want to effectively keep in touch, and offer something for everyone. We thoroughly enjoy the news and updates from the surrounding communities, as well as updates on the legislative meetings that are open to the public. It is not only engaging to learn about what services are available (enormously helpful!), but the social calendars are fun too."
• Rona & Richard in Arlington

Are you using your FPF calendar?