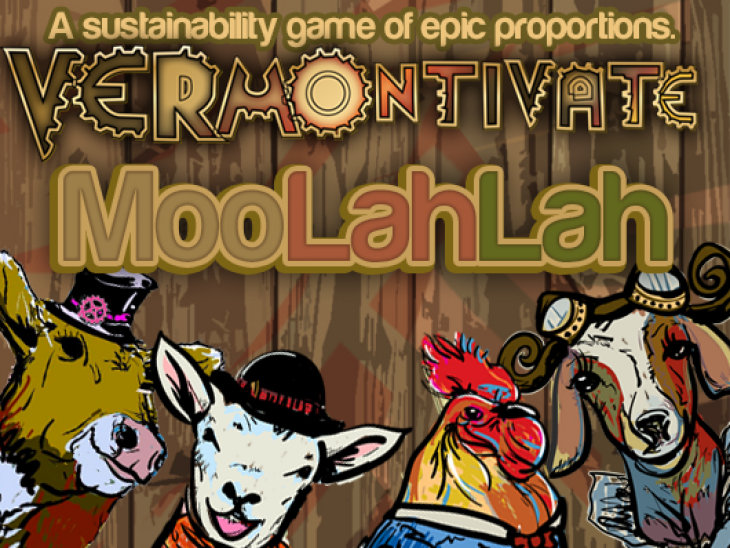 Tackling Climate Change With Joy, Collaboration, and Panache
The founders of the award-winning sustainability game called Vermontivate! have just announced their next ambitious project: launching the most successful, big-ticket crowd-funding campaign in Vermont's history.
Created last year by energy consultant Nick Lange and climate activist Kathryn Blume, Vermontivate! was their answer to the question, "How do we make responding to the climate crisis fun and collaborative?"  In response, Lange and Blume ended up creating a hybrid real-world/on-line game in which players took on a wide range of sustainability-related challenges, earning points on behalf on their town.  The winning town – which turned out to be Montpelier – won a community ice cream party from Ben & Jerry's.
"Last year was a tiny test round," says Lange, "with 13 towns and a couple hundred players.  This year, we've built partnerships with dozens of organizations, businesses, and agencies across the state.  We're ramping up to make a game this spring which completely permeates the culture of Vermont.  And the only way we can do that is with a great, big budget!"
"This creative, fun effort to inspire and motivate more people to be part of the energy and climate challenges we face is really inspiring," says Johanna Miller, coordinator of the Vermont Energy and Climate Action Network.  "It's why we presented Vermontivate! with a Community Energy Project award."  Miller adds, "If a dedicated duo volunteering their time could launch this effort with no resources, I can't wait to see what they do with some real financial power behind them."
"We set the bar high on this," says Blume, "because the problem of climate change is so big.  We're not making a cute little game that a few people can play for laughs.  We're trying to build a huge, powerful game, big enough to actually have an impact on something as gigantic and overwhelming as the global climate crisis."
The goal of the fundraising campaign – located at www.crowdfunding.vermontivate.com – was, like any good game, designed to set a record.  "The most successful Vermont campaign," says Lange, "raised $195,043 to help the Village Picture movie theater in Manchester go digital.  If they can raise that much to bring a movie theater into the modern era, then we can raise $1 more to help the people of Vermont fight the modern era's most pervasive, dangerous problem."
This year's round of Vemontivate! runs May 13-June 21.  Interested potential players can find out more at www.vermontivate.com, and at their Earth Day Celebration and Launch Party on April 20, 1-4pm, at the Train Station at Main Street Landing in Burlington.  Partner groups in Montpelier, Middlebury, Poultney, and Brattleboro will also have information available at their Earth Day celebrations.
"When most people talk about the perils of climate change, the words 'depressing' and 'impossible' tend to come to mind," says Blume.  "We want to replace that with 'fun' and 'infinite possibility.'  A game – funded, supported, and played by an entire state – seems like a great way to start!"