Vermonters are using FPF to seek and provide assistance. They rally together to support each other in times of need. Today we celebrate the wonderful example of the accomplishments possible by the folks in Westford!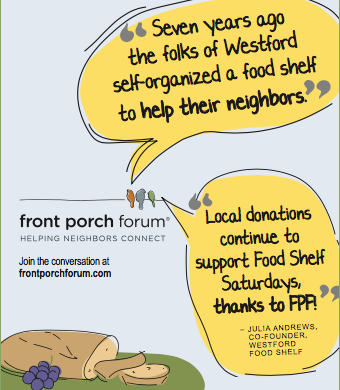 Using Front Porch Forum to post to their neighbors, co-founders Lauren and Julia built a community asset that is still going strong today.
In November, 2007: "I just found out that Westford doesn't currently have a foodshelf in operation. I'm very interested in starting one up again and am looking for some help. I'm doing research now on what tasks and costs are typically involved. Also on possible locations to host distribution and storage. It would probably only need to be open for two days or so toward the end of each month.
Please let me know if you'd like to join the conversation about this or if you'd like to volunteer for an exploratory committee. Nothing formal. I just want to get ideas from some other folks and get a sense for what kind of help might be available."  • Lauren
In June, 2008: "We will be open for the first time to serve our neighbors…. Thanks again for all the wonderful support around this project."   • Julia