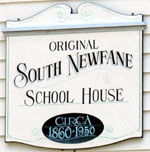 "A couple of months ago, a community member in my town posted on our Front Porch Forum an invitation for neighbors to gather in questioning how we can become more organized, informed and better able to rapidly respond to current social issues.  From that one post, about 40 people showed up.  We squeezed into the old South Newfane School House and began an important conversation.  Out of this gathering, we are now defining the contours of what we want to do as a group and how to effectively connect with other grassroots efforts in our state.  At the last meeting we invited our local legislators and many showed up.  FPF has been instrumental by creating the infrastructure that has allowed such a level of individual activism and organization to occur."
• Heidi, Newfane Townshend FPF
When it's time to get organized in your community, start with FPF.