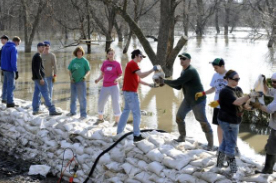 "Dear friends – A few days ago, I posted on our Front Porch Forum asking if anyone might be willing to share some fresh sage leaves with us — Jasmine and I were making food for friends and I'd run out of fresh leaves. I thought maybe one or two folks might be willing to help.
"Fifteen of you replied — several within minutes — offering to share your abundance with us. I'm sure that several more FPF readers have been thinking "oh, I need to email that guy about the sage plant!"
"It was really touching to see people reaching out with practical help.
"I've been feeling pretty despondent about the polarization I've seen in our nation over the last months and, particularly, the last week. It's clear that we have a lot of reaching out to do, and a lot of working to understand each other, if we're to get through the next parts of our nation's history.
"I believe that connections between real people are absolutely critical to finding consensus and building resilience, and that those connections thrive in an atmosphere where people share and help each other.
"Thank you, friends, for reminding me that I live in one of those places."
• Hollis, Burlington neighborhood FPF