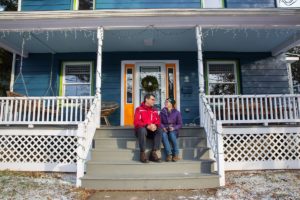 Sunday, March 29, 2020, marked the 20th year of Front Porch Forum providing a means for helping neighbors connect.  It's been our mission ever since and it's never felt more meaningful than now.  Here's how one of those first FPF members from Burlington's Five Sisters neighborhood reacted:
"Look what I got in the mail today.
You opened this Front Porch Forum account 20 years ago TODAY. Happy anniversary! Thank you for being an important part of connecting neighbors and building community.
Impossible to have lived life without FPF!  I have found help with my biz… I have an annual Caroling with Carolyn on Caroline St. and people from all over the neighborhood join us each December. New wonderful friendships have developed because of FPF. We are all so lucky to have this incredible resource."
• Carolyn in Burlington