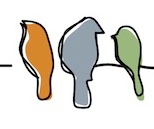 Before and after FPF… does it make a difference?  We just concluded a survey of 964 Front Porch Forum (FPF) members (out of 6,500 invited).  We asked FPF members to answer two-part questions about their experiences since joining FPF vs. before FPF.
Front Porch Forum helps neighbors connect.  In the survey, 18% more members reported knowing most of their neighbors since joining FPF (vs. before joining FPF).
FPF also helps Vermonters get informed about local issues.   Nearly four times more FPF members reported feeling "very informed" about local community issues since joining FPF.
And FPF helps people get involved and build community.  About one-third more members work to make change in their local communities monthly since joining FPF.
See more results below.
Thanks to all who participated.  And congratulations to Allison in Greensboro for winning our iPod prize drawing.
FPF helps people connect with neighbors.  Since joining FPF…
3% more members say "hi" to neighbors monthly (vs. before joining FPF)
10% more members find it very/somewhat easy to make friends among neighbors
18% more members know most neighbors
24% more members have neighbors over to their home monthly
37% more members share goods or favors with neighbors monthly
FPF helps people get informed about local issues.  Since joining FPF…
29% more members share news with neighbors monthly
68% more members feel "very informed" about local shops
Two times more members feel "very informed" about local government services
Nearly three times more members feel "very informed" about local clubs/organizations
Three times more members feel "very informed" about local contractors
Nearly four times more members feel "very informed" about community issues
Four times more members feel "very informed" about opportunities to get involved locally
Ten times more members feel "very informed" about neighbors' views on local issues
FPF helps people get involved locally and build community.  Since joining FPF…
10% more members intentionally "buy local" monthly (now 73% of members)
15% more members perform local volunteer work monthly
33% more members contact local public officials monthly
33% more members work to make change in their local community monthly
38% more members attend local public meetings monthly
43% more members attend local events monthly
89% of members have recommended FPF to someone
98% of members say that FPF helps their local economy (businesses find customers and new employees, neighbors save money, etc.)