Change is afoot. Front Porch Forum is glad to present a new and improved Email Forum design today.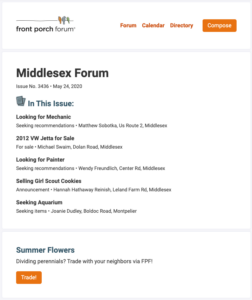 The daily FPF Email Forum has a new look.  At the same time, we're keeping all the content and functionality that members have come to appreciate in place and easy to use.
This redesign is one step in a series of upgrades that FPF is making to deliver the highest quality service to our members. The new, simplified layout of the Email Forum is designed to make postings shine. We've also made it easier to compose postings, search the posting archive and more!
Other recent steps we've taken to improve our service:
Launched a mobile app, making FPF easier to read from a smartphone
Expanded our service to parts of upstate New York

Became a Vermont Public Benefit Corporation

Celebrated our 180,000th member (and counting!)
Continuing to grow our in-house team of software engineers
Serving as essential civic infrastructure during the COVID-19 crisis
Already we've seen how these milestones and changes have helped us to fulfill our mission across the state in Vermont and in growing upstate New York forums. As the weeks go on, we look forward to sharing news on the additional updates and new features we'll be rolling out to better serve you and our communities.  Next up… redesign of our website, including the posting archive and Web Forum.
Stay tuned for details about these and other exciting new features and updates. We eager to share our progress!
For more information on FPF's growth and community impact over recent years, check out the following pieces: